People often ask about the colors and dyes traditional women handweavers of Sardinia — the tessitrici artigianali — use in their textiles. Weavers and dyers especially want to know specifically how certain colors in the Sardinian textiles are produced. The colors can be subtle or bold; bear the natural hue of wool, linen, or cotton; exhibit beautiful tints derived from natural and vegetable dyestuff; or sometimes even display the firmness of a modern chemical dye.
What I present about Sardinian dyes here and during events is general and never meant to be an exhaustive discussion, for several reasons. Textiles are a key aspect of Sardinian cultural heritage, and the tessitrici artigianali must be the ones to decide if and when to share details about their dyes and dyeing methods, and to present the information, especially outside Sardinia. They're the holders of the knowledge and expertise, much of which is passed down from one women to another, varies from weaver to weaver, and requires years of study and practice to master.
Within Sardinia, several weavers do offer workshops and presentations about traditional dyes, especially in the towns of Nule and Aggius, where a number of women still dye their own fibers. *
In previous decades and centuries, women of a town would work together to wash, card, spin, dye, and prepare fibers for weaving. This work is incredibly difficult and time-consuming, and the decline of the practice of handweaving means fewer women have the time, means, or help of others to dye fibers by hand. While some handweavers still tint their own fibers, others purchase fibers that have been dyed, usually at a Sardinian mill or dye house.
Many handweavers use a combination hand-dyed and commercially-dyed fibers; either type may be tinted with natural and/or chemical dyes. The choice depends on the weaver's preference, the colors needed for a particular item or design, and the availability, economics, and practicality of obtaining the fibers the weaver needs. 
Dyeing fibers is an art, especially when using vegetable dyestuff. Just as grapes grown for wine have different characteristics based on the soil, light, and shade of where they are grown, and carry these characteristics into the flavor and body of a wine, the plants used for dyeing have different qualifies based upon where the plants are grown, the amount of light and water they receive, when they are picked, and so forth, and carry this into the color the dyestuff imparts. I have met Sardinian weavers who can discern the subtle difference in dye color created by the same type of plants grown in different areas of the island. In addition, the color varies according to the method of dye preparation as well as the weather, season, temperature, and numerous other factors affecting a particular dye bath.
The natural colors and properties of the fibers typically used in Sardinian textiles — black and white wool, golden linen, and off-white cotton — also affect how a dye's color ultimately sets into the fibers. These natural fibers may also be left uncolored for weaving: natural black or white wool is used alone, or blended to produce a rich grey, and the golden tones of natural linen and the slightly whiter shades of natural cotton are also commonly used in finished weavings. The subtle variegation typically found in naturally-colored and hand-dyed fibers adds warmth to authentic handwoven textiles, and is considered by many a beautiful hallmark of the handmade. 
Sardinian dyestuffs are similar to those used in other areas of the world. Onion skins, saffron, and daphne are used to create shades of yellow. Walnut husks produce brown. Ivy, buckthorn, and other plant leaves create greens. A special mushroom is used to produce a natural orange. Logwood, introduced to the island a few centuries ago, produces a black deeper and more consistent than the natural black of wool. Kermes, an insect similar to cochineal, produces a prized scarlet red. 
The dyestuffs for purple and lavender, colors long considered to be the exclusive right and signature of royalty because of the difficulty of producing the tints, are abundant in parts of Sardinia — so much so that Scots made trading expeditions to the island in the 1800's expressly to acquire wool dyed purple and lavender to use in tartans bearing these shades. Pokeweed as well as a certain lichen found in specific areas of the island are used to create the colors.
Interestingly, when I first saw the Sardinian lichen that produces the sought-after lavender tint, I thought the lichen similar to a type that grows on oak trees where I live in the East Bay Area outside San Francisco. I gathered some of the fallen California lichen and prepared it as several of the weavers had instructed me, and then dyed a small amount of cotton cloth and linen fiber, which took on a lavender tint similar to that used in textiles of Aggius.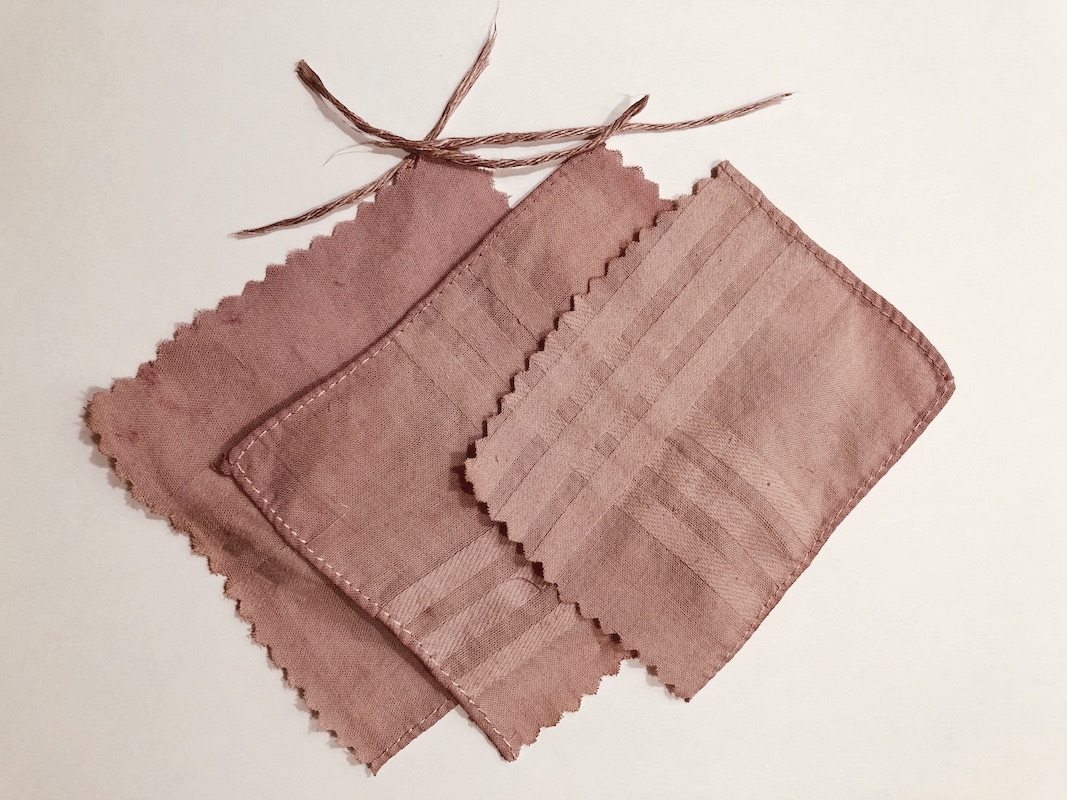 When I showed the result to a weaver from Aggius — Gabriella Lutzu — she noted subtle differences. I felt her keen discernment of color clearly underscored what we already know: traditional vegetable dyeing is an art, not a science, and that the color produced by any dye batch is due to countless factors, including the source of the dyestuff and the intention, hands, and heart of an artist. 
~ Kelly Manjula Koza
* When travel again becomes more predictable, I'll be leading tours of Sardinian weaving studios, some of which can include dyeing presentations from weavers, if participants are interested.