This is one of the educational posters from Sardinian Textiles: An Exhibit of Handwoven Art, held at the Italian Cultural Center – San Francisco in 2017. The text is first, followed by the poster.
There's certainly much more to discuss about this topic — and I expand greatly on this during my live presentations and in articles you'll find on this site and elsewhere. Sign up for the newsletter to stay connected!
There are many different classifications and types of looms, generally referring to how the movements of the loom are made and the structure of the loom.
Traditional hand looms are powered entirely by hand and foot. Power looms are those in which movements are powered by hydraulic or electric means. Weavers can stop the motion of a powerloom to add hand decoration to a weaving, and then engage the loom's automated power function to continue. Mills use large computerized electric or hydraulic looms that require little to no human interaction to create many identical items within a short time.
There are two primary configurations of looms: horizontal and vertical. Weavers using vertical looms start from the bottom of the loom and build the textile upwards, using their fingers to pass weft threads through the warp threads one at a time. The threads are tightened, or beaten, using a small hand beater distinct from the loom.
Horizontal looms are generally more complex than vertical looms, facilitating the construction of pibiones as well as complex repeating warp/weft patterns.
Heddles, or frames that contain needles through which warp fibers are threaded, are controlled by foot pedals, and raise or lower many warp threads at one time. This enables the weaver to pass a wooden shuttle carrying weft thread through the warp, or place a needle around which pibiones are wound on top of the warp threads. The threads are tightened using a beater bar that's attached to the loom and runs the entire width of the warp. The beater bar is moved by hand or electric/hydraulic power.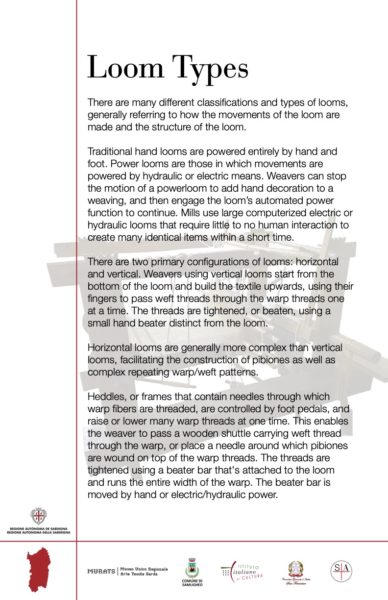 © 2013 – 2022 Kelly Manjula Koza | All Rights Reserved