This is one of the educational posters from Sardinian Textiles: An Exhibit of Handwoven Art, held at the Italian Cultural Center – San Francisco in 2017. The text is first, followed by the poster.
There's certainly much more to discuss about this topic — and I expand greatly on this during my live presentations and in articles you'll find on this site and elsewhere. Sign up for the newsletter to stay connected!
Looms were prized and essential items in Sardinian households for centuries. Weaving was every woman's work, and girls learned to weave at a young age. The women wove their corredo, or hope chest textiles, as well as items for daily use and various ceremonial items that were gifted, often prized and used for a lifetime.
After the second world war, power looms and commercial mills began to appear on the island, and production of everyday items started to shift away from the household.
By the late 70's, almost all of the studios and small shops had switched to using power looms, and items for daily user were made in mills. Today, very few professional handweavers remain.
Similarly, the process of collecting and preparing fibers by hand has virtually disappeared. The preparation of wool, linen, silk, and cotton fibers for weaving was often a communal event.
Today, almost all Sardinian handweavers use fibers that are processed at Sardinia's one remaining wool processing house, and/or high-quality linen and Egyptian cotton.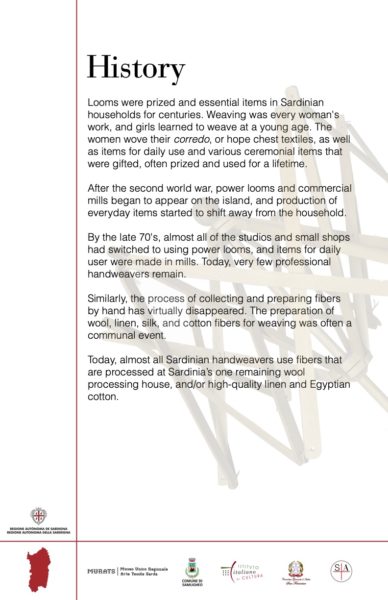 © 2013 – 2022 Kelly Manjula Koza | All Rights Reserved