This is one of the educational posters from Sardinian Textiles: An Exhibit of Handwoven Art, held at the Italian Cultural Center – San Francisco in 2017. The text is first, followed by the poster.
There's certainly much more to discuss about this topic — and I expand greatly on this during my live presentations and in articles you'll find on this site and elsewhere. Sign up for the newsletter to stay connected!
Designs and motifs used in the weavings vary according to the region, type of loom used, and the items woven.
Birds — doves, peacocks, and domestic hens and cocks — are common, as are deer, baskets of eggs, bunches of grain, grapes, grape leaves, flowers, and other agricultural symbols. Dragons, gryphons, and mythological figures are also found, especially on older textiles.
Many textiles have geometric designs, ranging from stylized flowers to diamonds, triangles, and stepped shapes representing the cycle of birth, growth, harvest, and death/decay.
The zig zags typical of funerary cloths represent water and the ebb and flow of life. The stars and seven colors traditionally used in Nule's carpets are ancient symbols of power.
Weavers familiar with their own traditions may create textiles that are highly traditional, or they may experiment and mix modern designs with ancient patterns.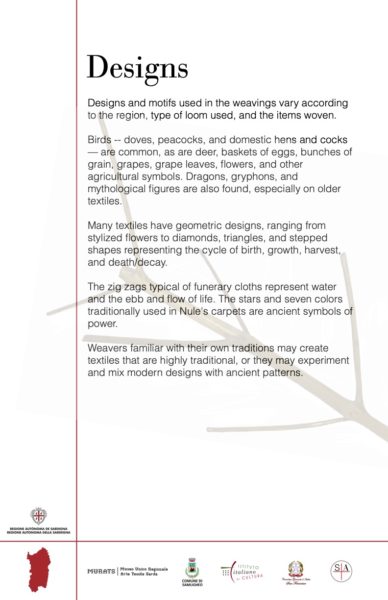 © 2013 – 2022 Kelly Manjula Koza | All Rights Reserved