This is one of the educational posters from Sardinian Textiles: An Exhibit of Handwoven Art, held at the Italian Cultural Center – San Francisco in 2017. The text is first, followed by the poster.
There's certainly much more to discuss about this topic — and I expand greatly on this during my live presentations and in articles you'll find on this site and elsewhere. Sign up for the newsletter to stay connected!
In a global economy where textiles have been commoditized, the importance of maintaining traditional handweaving and recognizing it as an art cannot be overestimated. Valuing the handweavers and the art and designs of Sardinia is key to ensuring all aspects of the textile tradition — handweavers, the studios using powerlooms, the mills, and the traditional Sardinian designs — remain rooted in and produced in Sardinia, in a sustainable and fairly-traded manner.
Traditional arts are on the verge of being lost, yet the arts and artists offer what many in the modern world seek. The manner in which Sardinian weavers work and live, their principles, and their awareness represent a heritage that can only have a great appeal for a population that lives in a high-tech world of automation and suffers incredibly high levels of stress. For those living in such conditions, the hand weavers become role models for more authentic way of life.
The preservation and elevation of the Sardinian arts, and, in particular, the art of the hand weavers is of fundamental importance: the respect for the handweavers will serve to open doorways of awareness and respect for all weavers, all Sardinian arts, and the heritage and culture of Sardinia. This, over time, will bring positive returns for all those working in tourism and commerce.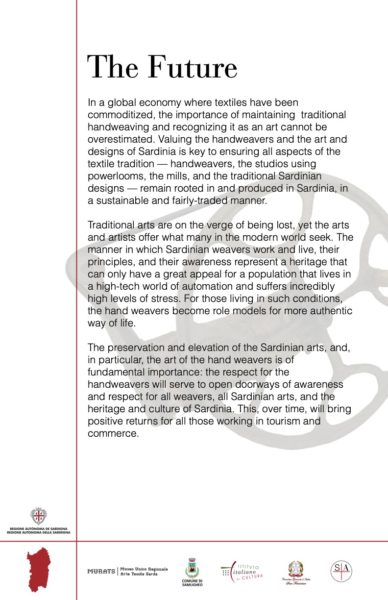 © 2013 – 2022 Kelly Manjula Koza | All Rights Reserved