This is one of the educational posters from Sardinian Textiles: An Exhibit of Handwoven Art, held at the Italian Cultural Center – San Francisco in 2017. The text is first, followed by the poster.
There's certainly much more to discuss about this topic — and I expand greatly on this during my live presentations and in articles you'll find on this site and elsewhere. Sign up for the newsletter to stay connected!
Just as the European Union recognizes different classifications of traditional food, it's important that Sardinian textiles are classified accurately with reference to the method and place in which they are made. This will help buyers understand classifications of textiles bearing the label "Made in Sardinia", increase esteem of all weavers in Sardinia, and protect weavers in a global economy.
The suggested classifications are:
Handmade textiles: Textiles made completely by hand, using looms where all movements and beating are done only by hand/foot, and not by a hydraulic, electronic, or computerized loom.

Hand-decorated textiles: Textiles made by hydraulic, electronic, or computerized looms, where the beating is not all done by hand/foot. The weaver stops the mechanical beating of the loom to make pibiones and/or add other decoration by hand.

Mill-made textiles: Textiles made in mills, by hydraulic, electronic, and/or computerized looms with minimum human involvement, and often where many similar objects are produced at the same time.
All the classifications permit:
The use of fibers prepared in mills.
The use of a sewing machine, if the use is to make seams/hems after the weaving is cut from the loom and the seams/hems are not decorative.
The use of fibers prepared by hand without hydraulic, electronic, or computerized tools can be indicated with the label "Hand-spun fibers".
All three classifications have their buyers and their place in the market. The difference between the three classifications of textiles is the same as the difference between a painting by a master painter, a limited-edition print of the painting, and a poster.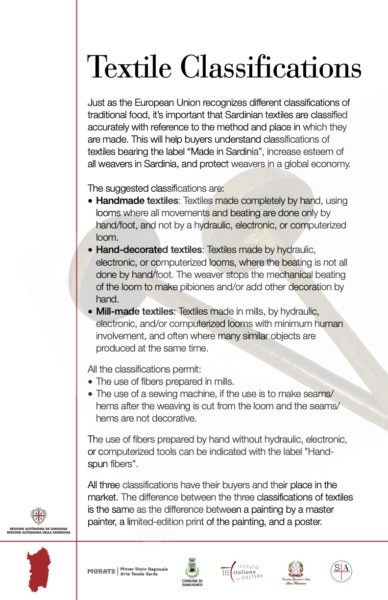 © 2013 – 2022 Kelly Manjula Koza | All Rights Reserved
If you would like to copy the textile classifications text to use on your own site or collateral, kindly include this credit and link: "Textile classifications as defined on SardinianArts.com."