In my presentations, I always talk about what the term handmade means, discuss the difference between handmade, hand-decorated, and mill-made textiles, and emphasize the importance of establishing and maintaining a classification system to protect the different types of Sardinian textiles.
Currently, there are no formal classifications or protections. This leads to confusion for buyers and encourages unscrupulous foreign businesses to appropriate and copy — steal — Sardinian textile designs and business. Even now, poorly-made textiles are being produced in China and brought into Sardinia, where the cheap imitations are labeled as "Authentic Sardinian" weavings and sold in tourist shops and roadside stands. I find this sad and infuriating.  
Handwoven textiles are a key element of Sardinia's heritage, and valuing and protecting the handweavers and their art is critical to maintaining the integrity of Sardinian textiles, overall Sardinian heritage, and the island's economy. The European Union has a classification system to protect traditional foods and wines considered important to Italy's cultural heritage — green plastic jars of "parmesan cheese" are not the same as rounds of true Parmigiano Reggiano DOP cheese, and the green jar name and labels cannot suggest they are.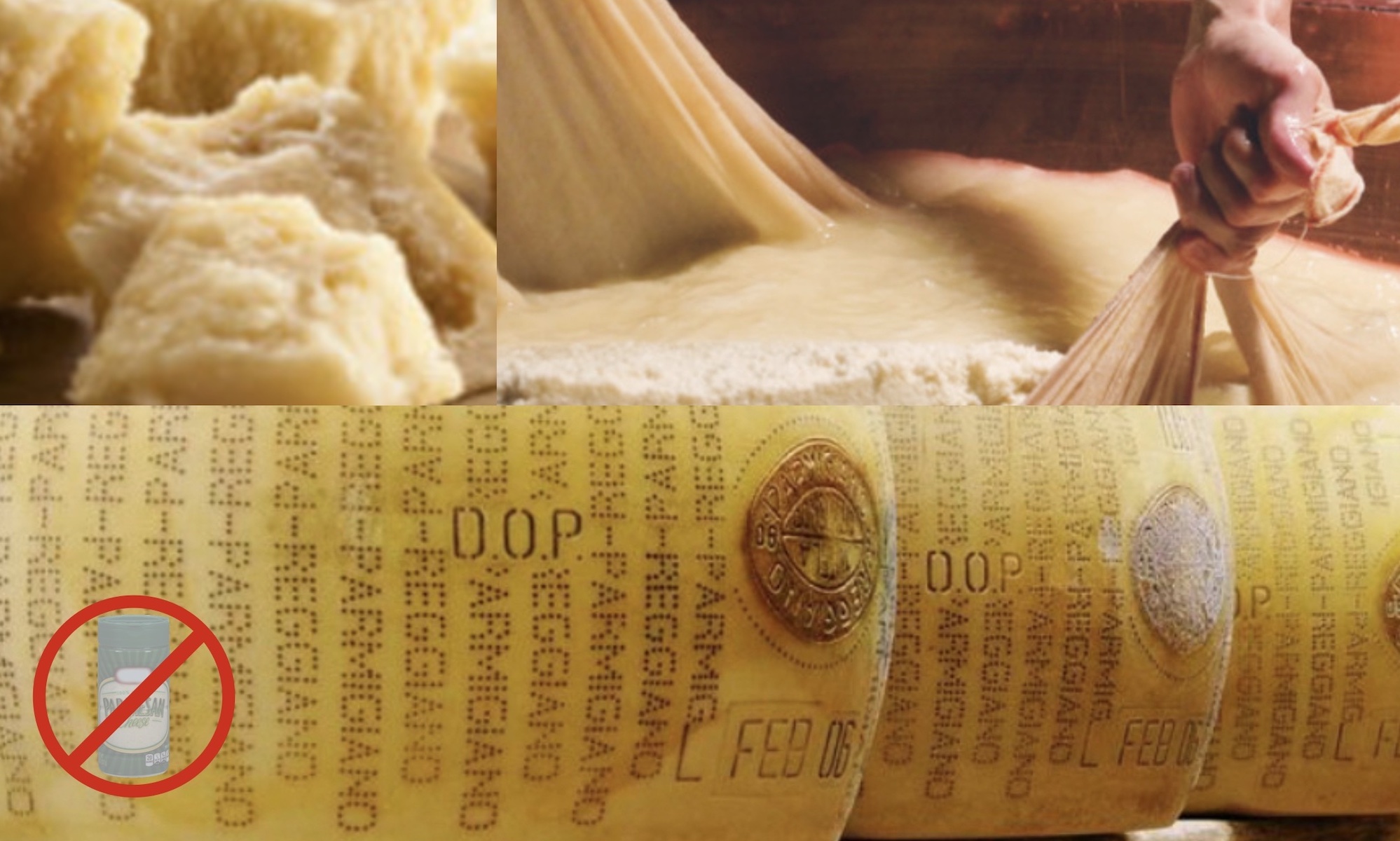 A similar textile classification system would help buyers understand what kind of weaving they are purchasing, ensure fair pricing for the different classifications of weavings, and protect Sardinian handweavers, textile producers, and mill owners from having their designs stolen and copied by offshore makers.
While there's much to discuss about protecting Sardinian textiles, cultural appropriation, and related issues, I'll be brief here. In fact, what you'll read below are excerpts addressing these themes from the Sardinian Arts Statement. You can read the full statement here (anche in Italiano).
In recent years, we have heard too many stories of traditional cultures and their arts that have been appropriated by vendors who are greedy and lack scruples. Stolen designs are used to generate profit for large international conglomerates instead of the communities from which the designs come and items are traditionally produced.
For the purpose of elevating the esteem and value for their art, Sardinian weavers should be recognized as artists, and their traditional designs should be respected as art of Sardinian origin. Items which incorporate Sardinian designs should be made only by local producers. The protection of Sardinian artists and designs will be advantageous to all the weavers of the island.
In Sardinia, most sellers don't currently make a distinction between textiles made by hand, powerloom, or mill. In the tourist shops, on the internet, and even in some textile studios, all of these textiles are sold as "traditional" and "traditional handmade".
Just as the European Union recognizes different classifications of traditional food, it's important that Sardinian textiles are classified accurately with reference to the method and place in which they are made, and that the public be educated to this regard. In fact, all the classifications have their place and their buyers.
Having discussed and exchanged ideas and opinions with experts over the past years, I think that this system of classification will help buyers understand the classifications of textiles bearing the label "Made in Sardinia", increase the esteem of all weavers of all the classifications, and protect the weavers in the global economy.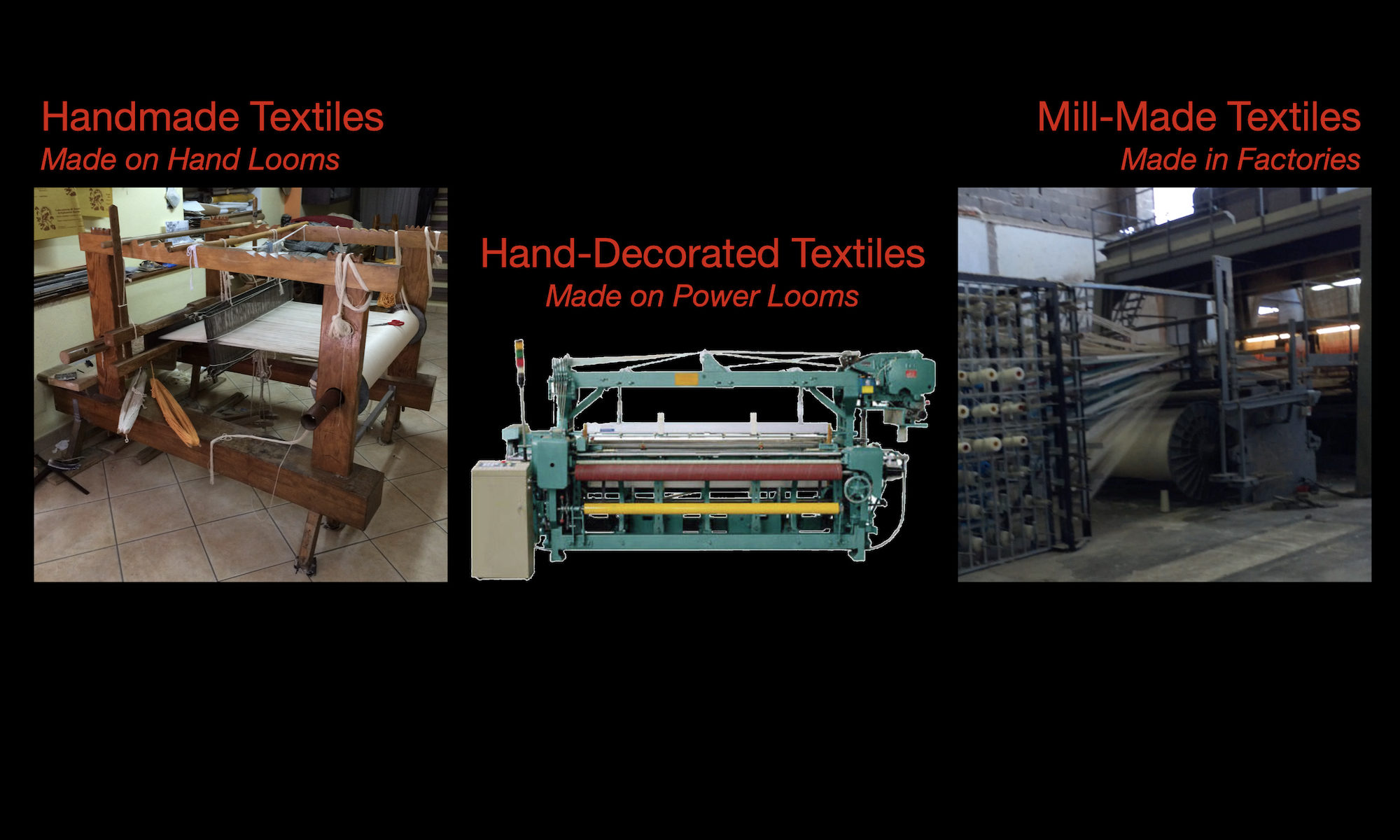 Handmade textiles: Textiles made completely by hand, using looms where all the movements and beating are done only by hand/foot, and not by a hydraulic, electronic, or computerized loom.
Hand-decorated textiles: Textiles made by hydraulic, electronic, or computerized looms, where all the beating is not done by hand/foot. The weavers stops the mechanical beating of the loom to make pibiones and/or add other decoration by hand.
Mill-made textiles: Textiles made in mills, by hydraulic, electronic, and/or computerized looms with minimum human involvement, and often where many similar objects are produced at the same time.
All the levels permit:
The use of fibers prepared in mills.
The use of a sewing machine, if the use is to make seams/hems after the weaving is cut from the loom and the seams/hems are not decorative.
The use of fibers prepared by hand without hydraulic, electronic, or computerized tools can be indicated with the label "Hand-spun fibers".
All three classifications have their buyers and their place in the market. There is no competition. The difference between the three classifications of textiles is the same as the difference between a painting by a master painter, a limited-edition print of the painting, and a poster.
Truly handwoven Sardinian textiles are a fit for collectors and others who value the highest quality textiles and the work of the women who weave them. Hand-decorated items suit designers who want rapidly-made customized production of their designs or unique items without the cost of a truly handmade item. Mill-made textiles from Sardinia are nicely made, inexpensive, and perfect for everyday use in homes, hotels, and restaurants.
While what I have written here is specific to Sardinia, I believe that protecting the handmade items and traditional arts of all cultures is necessary to preserve and sustainably build economies, societies, and people across the globe. Yes, technology has its place, but technology and gizmos must be balanced with the handmade in order to preserve and advance our physical and mental health, the health of the nature and societies, and the health of our individual and collective spirits.
~ Kelly Manjula Koza
The photos the cheese and also that of the power loom are from unknown websites; my thanks to the photographers.