The Often-asked Question
Sardinia is where I feel most at home on this planet: I melt into the land, the sea, and myself. Friends see this, and, like others, they're mystified, as my genetic heritage is obviously not Sardinian, or even Italian.
"What drew you to Sardinia? What drew you to the weavers? What's your connection?"
I hear these questions often, and the answer is simple — and not.
The short answer is "Good fortune, synchronicity, karma, and grace."
The long answer, of course, is more complex, bringing together events of many times and places.
Long-ago events form the foundation (or warp, to use weaving terminology) of the story, completed by more recent story-threads (the weft) .
More weft-stories have been woven; I will write them some time!
The Warp (Foundation) of the Story
When I was a kid, my parents loved to travel, explore, and meet new people, and our summer drives across the United States fostered my own appetite for adventure, desire to travel, and sense that I would someday live outside the US.
My mom, also adventurous and inquisitive, was resourceful, smart, and had what I call a genetic predisposition to design and engineering, which both my brother and I inherited. She could — and did — design, make, and/or fix pretty much anything and everything. She had worked as a layout artist before we kids came along, and afterwards, her love of sewing and the articles she created were the most common expression of her talents. She made most of her own clothes, many of mine, and upholstered, refinished, and transformed furniture. While I preferred playing sports and was not interested in sitting behind a sewing machine and thus (sadly) never developed my mom's skill and patience, I did learn her sewing techniques, how to do other things precisely, and acquired an intense love and appreciation of fibers, fabrics, and textiles. I was intrigued by the patterns, the precision, the mathematics hidden in weaves, and mesmerized by the feeling of fine textiles — especially when they were woven or sewn by hand. Even as a toddler, I was drawn to the feeling of bedspreads my mom had at the time: the bumpy, precise patterns had a special feel unlike anything else. I acquired the appreciation for handmade articles and the uncanny ability to sense a handmade article at a distance.
This passion for textiles was mostly hidden until I went to college. My choice to major in graphic design surprised friends and family: I had been a very academic student in high school, then graduated early to play a sport professionally — certainly a major surprise to my teachers! — and after a few years, finally went to college to study art . . . and my favorite class was weaving?!?!
Yes.
While at the University of Arizona, I had the great fortune to study with Gayle Wimmer, a well-known fiber artist and Fulbright Fellow who had worked with weavers in Italy, Poland, France, and Israel. Gayle and her classes were my biggest influence while I was at the U of A, and she became a friend and mentor of sorts. I qualify "mentor" only because while I loved weaving and fiber arts, I felt that it was not my calling to be a weaver — yet I knew somehow, weaving and fiber arts would play a significant role in my life. Later, I thought, perhaps I would collect rugs, not so much for the objects themselves, but as a way to honor the women who made them, and the work of the heart that went into the textiles.
I also studied a great deal of film history and photo history, even though I could not afford to take photography classes. Those were the days before digital, and the cost of cameras, 35mm film, paper, and developing solution was beyond my means. It would be later in life when I began my work in video and photography, for in university I could barely cover the cost of the special paper, markers, Exacto knife blades, and Letraset (go look up that word!) necessary to my graphic design studies.
In college, I also learned that the design style I had acquired from my mom and her brother — my uncle took me to his university design classes and started giving me his old Graphis magazines when I was about six years old — was considered "Swiss school" or "Italian school". I thought this clean, simple, functional style was merely good design. My professors and other students disagreed. My final project was an identity kit for a fictitious Italian furniture maker, which I immaculately designed, precisely constructed by hand, graciously presented — and strongly defended.
I was told I would do well in Europe, but not in the United States. It wasn't the last time I heard this!
Design style aside, I always felt I would end up living, or at least having a second home, outside the United States. For years, I wasn't certain where this would be, but I knew it would become clear at the right time. In my travels I considered Kerala, India; but no — the ashram and India was not for me as a home. Touring Europe, I considered various places, yet my first visit to Torino and the Piedmont area in 2003 left me feeling that Italy was too smoke-filled and misogynistic for my tastes.
The threads hadn't yet together to lead to Sardinia — and one of the most important was a nearly-forgotten recurring dream.
Throughout my childhood, I would often dream of a beach where the water was a deep, clear, unforgettable shade of blue, and the sky was another unique shade of azure. In the foreground, massive rocks tumbled down from my dream-vista to the water. In the distance, yet not too far away, rose the outline of a mountainous island. The beach image seemed familiar — somehow connected to a monastic lifetime — even though I did not know where the beach was, or where I had seen it before. The dream-beach was very unlike the shore of Lake Michigan, just two miles from my childhood home. The beach I saw in the dreams was more like those found in Northern California, but the colors, the rocks, the horizon, the light were not the same. The dream-beach was not a California beach. Nor was it a Hawaiian beach, a Florida beach, an English beach, or even a Greek beach — even though photos I saw of Greek beaches seemed more similar. If anything, I sensed that the dream-beach was in "Italy, but not Italy."
The Weft (Threads Filling in the Story)
In 2006, a friend introduced me to the music of an amazing Italian singer and mystic. Even though I didn't speak Italian at the time, I didn't need to: the heart and soul of the singer, the voice, and the music struck me, took me inside, and eventually changed my life in ways I did not foresee.
After a few years of listening to the music with an understanding of the heart (supplemented by whatever bits of Spanish and Latin I remembered from school, and an occasional translation provided by the friend), I decided to study the Italian language. In 2012, I began studying and visited Milano. The next year, I read my first book in Italian: The singer's biography. As expected, there were many words, phrases, and places I did not know and couldn't understand by context.
Google and Wikipedia became my constant companions as I searched for definitions and place names: Sardinia — I knew where that was — but within Sardinia, Gallura?
I googled. I clicked a link in the search results. A new page opened. Electricity jolted up my spine, and my breathing stopped.
I was looking at photos of my dream-beach.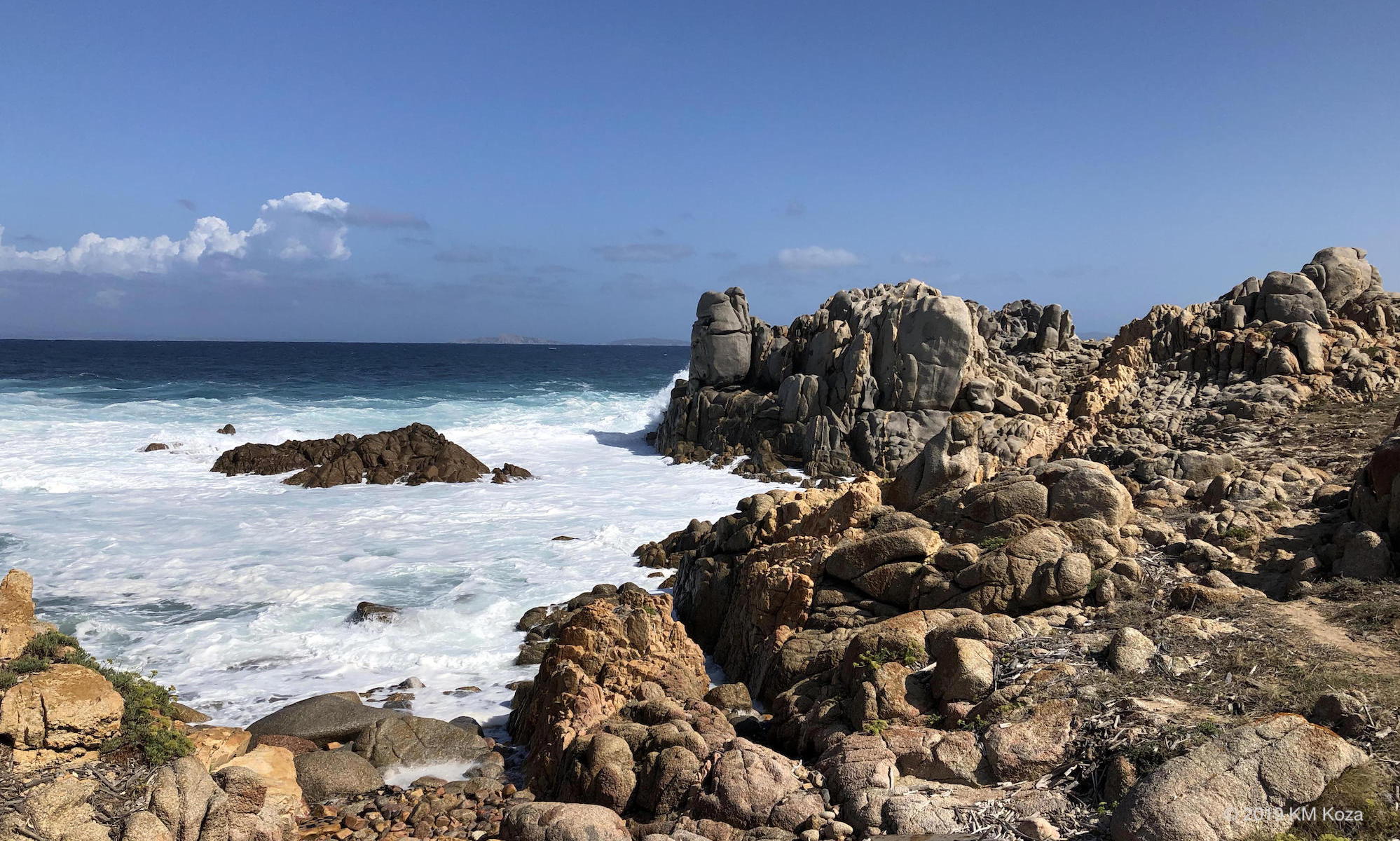 To be continued. . .
© 2013 – 2022 Kelly Manjula Koza | All Rights Reserved